31 May:  Hadi al-Amiri, commander of the strongest Iraqi Shiite militia, the Badr Brigades, said Wednesday, May 31, that his forces are preparing to enter Syria to bolster the Syrian government and fight the Islamic State in Deir-ez-Zor and areas south of Raqqa. Meanwhile Kurdish forces are clearing the countryside around Raqqa and preparing to enter the city.  
The Islamic State in Mosul prepares for last stand at the city's Mosque.
South Korea's new president, who wasn't happy with the two THAAD launchers the US installed right before the election.  was "shocked" to learn that since his election, the Pentagon installed four more launchers without telling him, or anyone within the government.
30 May:  An exasperated Germany laments Trump.
Syrian government gains full control of Damascus as rebels evacuate to Idlib.
Netanyahu far right extremist allies warn Trump against the Mideast Peace Initiative he plans to present in the coming weeks.
In the race to beat the Syrian Army into Raqqa city the US backed [Kurdish] Syrian Democratic Front has liberated the villages of Al-Khatuniyah, Ker Ali, Ballanah, Bir Akhu Hadlah, Bir Hajj al-Mufazi , Bir al-David and Al-Furqan and has advanced to within six miles of the center of Raqqa city in Syria, through key sites east of Tabqa city, thereby gaining control of Hindah Train Station, Sadcob Fuel Company and Hindah Grain Silos, three key sites on the M4-highway leading to Raqqa city.  Success in the field has brought success at the recruiting offices with 600 recruits joining the Kurdish force over the weekend.  
In Iraq Islamic State forces begin burning documents and fleeing.
29 May:  Netanyahu prepares party for concessions to Trump Peace Initiative.
Macron / Putin hold first meeting. 
28 May:  Islamic State convoy withdrawing Raqqa annihilated by Russian warplanes.  More than 32 vehicles and 120 IS fighters destroyed in Islamic State catastrophe.  IS fighters were being allowed to flee Raqqa by America and the US backed Syrian Democratic Front,  evacuating the city ahead of the US SDF assault.
German Chancellor Angela Merkel declared Sunday that Europe "must take its fate into its own hands" now that it is faced with a NATO alliance divided by Brexit and Donald Trump's presidency.  "The times in which we could completely depend on others are on the way out. I've experienced that in the last few days [during the G7]," Merkel told a crowd at an election rally in Munich, southern Germany.  Merkel thus opened the way for Trump to withdraw from NATO and the rise of a new Franco – German centered federal Europe after the coming Middle East war.
Zbigniew Brzezinski, 1928-2017: The foreign policy extremist who helped Carter broker Israel-Egypt peace and then created Islamic Extremism to further US policy in redrawing the Middle East died on Friday. 
Israeli's hold massive peace demonstration in Tel Aviv.  Rally seeks to unite peace oriented opposition to Israeli far right extremists for next election. The rally is in preparation for the July 4 Labor Party Convention and  putting together a revamped Zionist Union to take on Bibi and Likud. 
President Trump is waiting for further advances against the Islamic State before presenting his Mideast Peace initiative in the coming weeks. Once the peace initiative is ready Netanyahu is expected to dissolve the government and call elections, seeking a stronger mandate and delaying peace talks for four months while attacking Gaza and Hezbollah – with US / Arab help against Iran – to reset regional realities ahead of the talks.  
The peace oriented parties are working to replace Netanyahu and carry out a genuine dialogue for peace.  Bibi wants to present himself as Mr. Security and the great victor, but the ravages and costs of war may bring his downfall.
Saturday morning Iraqi forces launched their final assault on the last remaining pockets of Islamic State in Mosul.  
Saturday Russia and Syria rushed to prevent IS fighters from escaping Raqqa Syria.   The Islamic State is evacuating Raqqa with US and SDF permission.
27 May:  A Blessed Sabbath for all God's Faithful.  This is the sixth Sabbath after the Wave Offering and according to the Biblical Calendar that God gave to Moses, the Feast of Shavuot or Pentecost will be on Sunday June 4, 2017.  NOTE:  The Rabbinic Calendar is quite different from the scriptures and Moses.  For explanations please download the free book mentioned below.
26 May:  Ramadan begins after new moon seen in Africa.  The collapsing Islamic State calls on all of its assets around the world to rise up and strike in a paroxysm of violence.
The new moon was NOT seen from Jerusalem this evening, meaning that sunset ending the Sabbath of 27 May will begin the New Moon Appointed Time and the first day of the biblical third month will be Sunday May 28.  
The New Moons are commanded Appointed Times to worship God [hold Bible Studies] and to sound the Shofar in rejoicing.  For more on the new moons and the Biblical Sabbath and Calendar please see our calendar studies here.  
The next new moon is expected to be visible from Jerusalem the evening of June 25, making June 26 the first day of the fourth biblical month.
26 Copts killed 25 wounded in Islamic State shooting attack in Egypt.
25 May:  US Coalition backed Syrian Democratic Front advancing against Raqqa.   Major Syrian locations including over 140 miles of the Euphrates river bank have been liberated in strong and growing momentum is  being made in the battle for Raqqa.
Netanyahu undergoes surgery under general anesthetic this evening.  
Trump blasts NATO in scathing speech in Brussels as Germany praises NATO.
3 Palestinian suspects arrested over attack on settler's car – Suspects from Huwara arrested as part of investigation into incident in which some 200 Palestinian rioters pelted the car of a settler who came upon the area with stones, later surrounding the car, banging on its windows and kicking it. [NOTE: The settler had committed a terrorist act, driving into a crowd of people first, after which numerous people attacked his car – OH] (Ynet) 
24 May:   After attack in Britain and under intense US pressure NATO to slightly increase involvement with US Coalition against Islamic State.
President Trump to announce Mideast Peace initiative within a month.   Initiative will include separate, time limited talks, on each issue. 
23 May:  Britain raises threat level to the highest "Critical" meaning an attack is imminent and deploys army.  
Trump arrives in Vatican to discuss proposed Mideast peace outline with senior Catholic officials.
Islamic State claims 22 deaths 59 wounded in Manchester last night.
A rocket fired early Tuesday from Egyptian Sinai exploded on empty ground in the Israeli Eshkol district without causing damage
22 May:  Breaking 15:52 PDT:  First reports nineteen confirmed dead and fifty injured after explosions at a Manchester concert venue in Britain.
Trump issues impossible demands to Iran in buildup to regional war.
1. Iran would not be permitted to possess a nuclear weapon.
2, Iran must dismantle the Shiite militias.
3. Iran must remove all those Shia militias from Syria.
4. Iran must evacuate Hezbollah forces from Syria and disarm them in Lebanon.
In visit to Israel Trump to seek Netanyahu backing for Washington summit with Israel, Palestine, Egypt and possibly Saudi Arabia to start Mideast Peace talks in the coming weeks. 
North Korea successfully tests multi stage ballistic missile on Sunday
21 May:  Israel to approve small measures for Palestinians today.
US / Israel complete two week warplane drill.
President Donald Trump works hard to vilify Iran as he meets key Arab rulers on Monday, his second day in Riyadh, starting with "very, very important" talks with Egyptian President  Abdel Fattah al-Sisi, whom he praised and to whom he promised an early visit to Cairo. He then spoke with Qatar's Emir Sheikh Tamim Bin Hamad Al-Thani. After meeting Bahrain's King Hamad, the US president has scheduled meetings with the leaders of Kuwait and Oman. Trump said he would address the Gulf Cooperation Council "as part of an effort to counter Iran with a Arab NATO-like force."
Trump declares Hamas and Hezbollah terrorist organizations.
Kurdish forces in Iraq announce the completion of the liberation of their assigned  areas in Mosul.  
Meanwhile the Islamic State now controls only three districts in Mosul city; namely the Al-Shafaa, Al-Zinjiji, and Old City neighborhoods. These ISIS-held areas are centered around the three bridges on the western bank of the Tigris River.   Islamic State has only an estimated 500 troops left in Mosul and the final battle is now in progress with complete victory hoped for in a matter of a few days.
Iranian President Hassan Rouhani, 68, was officially declared the winner of Friday's presidential election with a landslide victory of 57 percent against his rival, Ebrahim Raisi, cleric and protégée of the hardliners. Turnout was more than 70 percent.  However the nation is still primarily controlled by the Revolutionary Guards over which Rouhani has no control.
Secretary of State Rex Tillerson told reporters that the centerpiece of the present Trump trip was to curb any threats to the region posed by Iran. He said that the military and private sector deals agreed during the trip send a "strong message to our common enemies."
In a joint address with Saudi Foreign Minister Adel bin Al-Jubayr, Tillerson hailed a "historic moment" in US-Saudi relations. Announced hours earlier were a $109 billion in arms sales to Saudi Arabia and $350 billion in direct U.S. investment over 10 years. He said the new defense deal — which includes upgrades to Saudi communications, missile defense, maritime, border and cyber security — lowers the demands on the US military. "We have to defeat ISIS on the battlefield, but we really have to defeat ISIS in cyberspace,"  
In addition to the ISIS fight, the deal is opening the way for an attack to obliterate the Revolutionary Guards in Iran during the long planned regional Mideast war.  
The deal against Iran was sealed by the billions of Saudi purchases from the US to save Trump politically in America, and calls for Israel to place a cap on Israeli construction in the occupied territories in exchange for an alliance against Iran.  Trump will visit Israel on Monday and Tuesday and make it clear to Netanyahu that Israel must accept the deal for the greater good and will not be allowed to  sabotage the greater plan.  
Naftali Bennett (Jewish Home) on Saturday evening gave Netanyahu four red lines to save the coalition.
According to Hebrew-language newspaper Israel Hayom, the first condition is that there will be no building freeze in Judea and Samaria.

The second condition is that Israel not agree to any one-sided concessions, and the third is that none of the imprisoned terrorists are released.

Bennett's fourth condition is that Jerusalem remain undivided and off the negotiating table in any peace talks.  
The Israeli far right coalition conditions clash strongly with the Trump / Arab deal and bring Israel into another coalition crisis.
20 May:  A Blessed Sabbath f0r all God's Faithful!
19 May:   Senior Syrian and Iraqi commanders are meeting to discuss Iraqi troops – now well experienced from the Mosul liberation – joining the anti Islamic State operations in Raqqa and Deir ez Zor Syria.  Meanwhile a substantial US led eight nation force has entered Syria from Jordan and is moving against the Islamic State.  
In Iraq, Mosul is on the verge of liberation and 70% of the surrounding countryside in Anbar province has been liberated as well.  Once Mosul falls only one town [Haditha] and a small piece of Anbar countryside remains to be liberated inside Iraq.
18 May:  Israel seizes Palestinian welfare support from families with fathers in Israeli jails, claiming they are a reward for terrorism.
Arab nations offer normal relations to Israel in exchange for a partial construction freeze and peace talks.  Israel needs the Arab nations against Iran and this is an offer Netanyahu cannot refuse, but the far right extremists in the government see things differently.  Egypt calls on Israel not to miss the opportunity.  
The U.S. Justice Department on Wednesday appointed former FBI Director Robert Mueller as special counsel to investigate possible collusion between President Donald Trump's 2016 campaign team and Russia.  The move came after Trump had fired the FBI Director for refusing to quash investigations of Michael Flynn and the Russian controversy.  
17 May:  New South Korean president to visit Washington in late June.  War on North may still come.
Trump to twist arms and push plan for Mideast peace talks on May 22-23 visit.  Then after Trump leaves, the Israeli and Palestinian cabinets will debate approving holding talks before Trump can call a summit to launch any peace talks.  Will the Israeli coalition collapse due to far right resistance?  
Erdogan meets Trump in Washington to try and bridge deep cracks in relationship over Kurds.
16 May:  Gulf States Offer Unprecedented Steps to Normalize Israel Ties in Exchange for Partial Settlement Freeze.  Various Sunni Arab countries offer to establish direct telecommunication lines with Israel, among other steps, if Israel makes various gestures toward Palestinians, according to Wall Street Journal report. (Haaretz) 
On Sunday, Jordanian and Egyptian foreign ministers met with Palestinian chief negotiator Saeb Erekat in Amman to discuss reviving peace talks with Israel and afterward in a joint press conference, the Jordanian Foreign Minister Ayman Safadi said that E. Jerusalem should be the capital of Palestine, while West Jerusalem is the capital of Israel. Safadi added that the issue of Jerusalem should be treated with caution.
That solution could work if the city as a whole were internationalized,  somewhat like Washington DC not being part of any US state.
The Israeli Prison Service is torturing Marwan Barghouti by subjecting him to very loud noise, preventing him from sleeping, or thinking.
The anti Syrian propaganda begins to heat up with claims of a Syrian crematorium disposing of bodies and Israeli officials calling for Assad's assassination.  The ONLY evidence; a picture taken a few winters ago showing some snow melt on a roof and the conclusion that there must be a crematorium to melt a small patch of roof snow.  Maybe they do or maybe they don't, but this is a rather thin assumption and why not mention this two years ago?  Obviously the propaganda mill is preparing public opinion for the overthrow of the elected Syrian government now that the Islamic State appears to be collapsing this summer.  
Russia tells US to stop threatening North Korea and talk responsibly.  The American belligerence and refusal to talk to N.K. until N.K. agrees to all US positions, along with Syria and Ukraine are fueling ever deepening rifts between East and West and a crisis seems to be coming.
15 May:  
US special forces, together with British and Jordanian soldiers took up positions – as indicated by the tanks in South Syria on the above map –  to cut off any Islamic State escape from Raqqa or Iraq as the defeat of IS approaches.  
14 May:  The IDF Sunday launched a week-long military exercise along Israel's northern borders with Syria and Lebanon, with armored units and air force cover.  The US-Jordanian Eager Lion military drill has been in progress since last week.
North Korea fired a missile early Sunday from a launch site near its border with China some 450 miles into the sea between the Korean Peninsula and Japan.  It was the first launch since Moon Jae-in, who promotes dialogue with the North, was elected president of South Korea last Wednesday. The new S.K. president immediately called an emergency meeting of his national security council.
On Saturday, President Trump said in a commencement speech at Liberty University, Virginia, "Next week we'll have great news from our army and generals." He did not elaborate,  but Mosul is about to fall to Iraqi forces liberating it from the Islamic State.
Kurdish forces advance to within three miles of Raqqa with the city's liberation expected by summer.
13 May:  A Blessed Sabbath for all God's Faithful!
12 May:  Trump may still eventually attack North Korea over missile / nuclear program without permission from South Korea and leave it up to South Korea and China to pick up the pieces.
Why Netanyahu fears Trump visit.
Israeli PM Netanyahu is to present US President Donald Trump with a plan to construct about 15,000 apartments beyond the Green Line on occupied land in Givat HaMatos, East Talpiot, Ramot, Pisgat Ze'ev, Neve Yaakov, Ramat Shlomo, Gilo and Atarot.
Aside from the apartments, the plan includes the construction of dozens of public facilities, community centers, schools and kindergartens.
10,000 apartments are set to be built within the Green Line in Lifta, Pat, Ora, Masua, Romema, Herzog, Arnona, Malha and Reches Lavan.
Mosul to fall within days.    Syrian Democratic Front making strong advances against Raqqa.  
Trump to rush heavy weapons to the Kurdish SDF enabling the Kurds to set up an autonomous state.  
Once Raqqa falls the dismemberment of Syria will be de-facto with the four safe havens for the US backed insurgents and rebels inside Syria.  Then an Israeli war on Hezbollah will open teh way for the rebels to leave their safe havens to overthrow Assad.
11 May:  Hamas announces arrest of Fukha assassin.  Salafist recruited by Mossad confessed to the murder.
Kurdish US forces move to within 25 miles of Raqqa with the liberation of Tabqa on Wednesday.
Abbas to attend Saudi summit with Trump and Arab leaders before meeting with Trump and Netanyahu in Bethlehem or Jerusalem in effort to start peace talks.
10 May:  Trump more and more like Hitler; presidency so far a disaster for US: 
When President Trump demanded that South Korea pay for the $1 billion THAAD missile defense system being installed in South Korea, South Korean officials made it clear pretty quickly that wasn't going to happen. They had an agreement signed, after all, and payment wasn't part of it.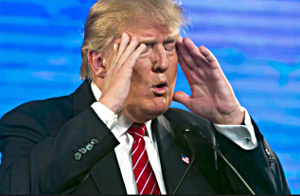 National Security Adviser H.R. McMaster was quick to try to defuse the issue, insisting that the US would "adhere to our word" and pay for the THAAD, and that Trump's talk of paying wasn't official US policy. Apparently he didn't talk to Trump about that before the call.
Several sources are now reporting that Trump was "furious" over McMaster's comments to South Korea, got him on the phone and screamed at him, accusing him of "undermining him" on the plan to get South Korea to pay for THAAD.
This comes amid growing reports that McMaster has fallen out of favor within the administration, particularly with Trump, though the White House is insisting Trump still has every confidence in him. That's not what insiders say, however, with many reporting Trump "regrets" McMaster as a replacement for the sacked Gen. Flynn as National Security Adviser.
Trump losing Pacific Asia?
One too many threats by Donald Trump may have decided the South Korean election; this one the economic threat to cancel the US South Korean economic relationship set the whole nation against the US and caused them to elect a pro China president and forced them into the arms of China.  
China invited North Korea to a major economic summit as new South Korean President vows peace with North and relationship with China, turning away from America.  
The Chinese economic summit is to replace the Pacific Asian free trade association which was cancelled by one Donald Trump, driving the Pacific Asian nations into the arms of China-Russia and the Shanghai Cooperation Organization sphere of economic influence.
For more than a decade the North has said its nuclear program was in response to US / S.K. preparations to attack it, saying the nuclear program would stop if the US stopped its major military exercises against the North.  
Has Trump been denied a war on North Korea?  Could peace be in the air with a move by South Korea towards China and away from the US?  That now looks possible.
Russian President Vladimir Putin and Palestinian Authority chairman Mahmoud Abbas will meet in Sochi on May 11 to discuss the Mideast political settlement and some bilateral issues.  
Russian Foreign Minister Sergey Lavrov visits President Trump at the White House in Washington later Wednesday. He will also be meeting Secretary of State Rex Tillerson, as well as attending a conference of the Arctic states (US, Canada, the Nordic states and Russia).
President Trump fired FBI Director James B. Comey on Tuesday, at the recommendation of senior Justice Department officials, who said he had treated Hillary Clinton unfairly and in doing so damaged the credibility of the FBI and the Justice Department.
The development comes as Comey was leading a counterintelligence investigation to determine whether associates of Trump may have coordinated with Russia to interfere with the US presidential election last year.
"The firing is effective "immediately," he said. Attorney General Jeff Sessions announced that Comey's deputy, Andrew McCabe, would be the acting director of the FBI.
9 May:  Moderate Moon wins South Korea presidency, will seek peace with North rapprochement with China.
The situation warms in Europe as three Russian warships enter the Baltic Sea  close to the Baltic state of Latvia, a member of NATO,  shortly after the USS Carney entered the Baltic Sea with cruise missiles.  
On US President Donald Trump's peace making plans Jewish-American tycoon Ron Lauder told Israeli officials that Trump was 'very determined' to reach a deal, Palestinian President Mahmoud Abbas said that Trump promised a deal would happen within a year (Maariv) and that Abbas told Trump the peace talks should resume from where the 2008 negotiations with Israel left off before Olmert was forced to resign. 2008 proposals and maps.  The present far right Israeli coalition will do everything possible to prevent talks or to obstruct them if they begin.  
Efforts are being made to bring Olmert back onto the political map as leader of Labor for the coming elections.
Israel tries to disrupt Trump visit through secondary means.  If the visit is postponed it will only put off the inevitable for Netanyahu.
Syria peace talks to resume in Geneva on May 16.  Violence has been dramatically reduced in Syria since the establishment of four safe havens for the American backed rebels by Syria and Russia.  
Iraqi forces advance in Mosul.
8 May:  The Chairman of the Joint US Chiefs of Staff, Gen. Joseph F. Dunford, arrived in Israel Monday for an official visit, as the guest of the IDF Chief of Staff, Lt. Gen. Gady Eisenkot.  Gen. Dunford will meet with Prime Minister Binyamin Netanyahu, Minister of Defense Avigdor Lieberman, Lt. Gen. Eisenkot and additional IDF commanders.
South Korea elections tomorrow.
7 May:  Shortly after voting ended in the French presidential runoff election, exit polls gave centrist candidate Emanuel Macron a large majority of 65.5 percent over his 34.5 percent for his rival, Marine Le Pen.  Macron only founded a new party En Marche! a year ago. He plans a grand celebration at the Louvre in Paris. Minutes later, Le Pen conceded victory to Macron and wished him success.  This is excellent news for the Vatican plans for a New Federal Europe to fulfill Bible prophecy as the final revival of the Babylon (Dan 2) based Holy Roman Empire system in the next few years.
Ismail Haniyeh elected head of Hamas Political Wing.
6 Mau:  A blessed Sabbath for all God's faithful!
5 May:  Gaza is falling into economic collapse due to the Israeli blockade and another round of war is approaching.  Abbas to increase pressure on Hamas and bring Gaza to breaking point so Israel can overthrow Hamas and the Gaza militants and return Gaza to the West Bank as part of a coming peace deal.   Hamas to choose new Political Wing leader tomorrow.
Staunch Catholic pro EU  French presidential candidate Emmanuel Macron extended his lead in polls over his far-right rival Marine Le Pen on Friday, Reuters reports.  Four new polls showed Macron on track to win 62 percent of the votes in the second round compared to 38 percent for Le Pen. A fifth poll showed him on 61.5 percent.  Macron is calling for a new updated and more federal Europe EU.
A Palestinian official said that contrary to Israeli claims, Abbas and Trump discussed all 'core issues'.  These issues will be discussed with leaders from across the Arab world during the Trump visit to Arabia on May 19 and the Vatican and be presented to Netanyahu on Trump's visit there May 22 – 23. 
'The recently appointed prosecutor in the case investigating Prime Minister Binyamin Netanyahu on suspicion of receiving illicit gifts said, "No one asks for or receives hundreds of thousands of shekels from friends,"  Indictment of Netanyahu expected soon.
4 May:  After his meeting with president Abbas on 3 May  Trump plans to meet leaders from across the Islamic world in Saudi Arabia on May 19, before visiting Jerusalem and Bethlehem on May 22 – 23 to talk with Netanyahu and Abbas on starting Mideast peace talks.  The Jesuit trained Trump will then visit the Vatican before completing his first trip at the NATO Summit in Brussels on May 25th and capping it off with a G7 meet in Sicily on May 26.
After the Trump Putin phone conversation on 2 May Safe Zones have been set up for the American sponsored "rebels" inside Syria.  Rebel factions stormed out of the Astana meeting after Iran also signed the promise because Iranian officers would be included in the observer force, however that protest was more symbolic than real.  The safe zones will be refuges from which the rebels can overthrow the regime when Israel destroys Hezbollah and the remaining strength of Syria.
Buckingham Palace has announced that Prince Philip is retiring from public duties this autumn.  
US efforts for a strong UNSC Resolution on North Korea is stalled although there are reports of a nuclear test by the North being close.  
3 May:  Trump Erdogan summit on May 16.  
Islamic Sate loosing ground in Raqqa.
2 May:  South Korea presidential elections May 9 may bring a falling out with the US over North Korea.  It will still take years for North Korea to weaponize a nuclear device and a delivery system and the present crisis is seen as a creation of the US to overthrow the NK regime in line with their New World Order agenda
Vladimir Putin to phone Donald Trump at 16.30 GMT today. The two presidents have spoken on the phone several times, but this conversation is being publicized as a pointed warning to North Korea. Putin is also meeting German Chancellor Angela Merkel Tuesday at Sochi.  
After defeating the Islamic State in Iraq / Syria the US plans to surge those experienced forces to Afghanistan and other hot spots to eradicate the IS this year.  
US deploys heavy bombers to Korea and trains them with international warplanes. THAAD declared operational.
1 May:   Japan deploys its pocket carrier Izumo to escort American supply ships in the Sea of Japan.  North Korea to hold nuclear test in near future.
Iraq opens offensive to liberate last four districts of Mosul still in Islamic State hands.  Only six hundred IS fighters left in the city out of an original six thousand.
CIA Director Mike Pompeo arrived in Seoul unannounced Monday for what was described by US sources as an "internal meeting" with US embassy staff and US military chiefs posted in South Korea. Sources in Seoul reported meetings with South Korean intelligence chiefs and senior officials.
Trump invites Philippine president Duterte to Washington to smooth their relations before dealing with North Korea.  Philippines considered important for any anti NK operation.
Iraqi forces advancing in Mosul.  The battle to liberate Mosul should be completed "in a maximum of three weeks," announced the Iraqi army's chief of staff, Lieutenant General Othman al-Ghanm. 
Palestinian leader Mahmoud Abbas (Abu Mazen) called on President Abdul-Fatteh El-Sisi in Cairo Saturday to coordinate the Palestinian position on peace talks with the Egyptians before he meets President Donald Trump at the White House Wednesday  3 May.
The cabinets of Palestine and Israel must approve an agreement to begin peace talks before Trump can visit Jerusalem on May 22.  Currently the Israeli cabinet is focused on approving massive housing starts in  Jerusalem for the June Six Day War celebration and may balk at a construction freeze or building caps.
NATO Summit Brussels May 25.